Deposit Products
Personal Checking Accounts
New Carlisle Federal has a checking plan to fit your individual needs, whatever your time and place in life. From free basic checking to interest bearing accounts for personal or business use, you'll find the convenience, safety, service, and features you want in our Checking Accounts.
Free Check Safekeeping
With all New Carlisle Federal Checking Accounts, we'll keep your cancelled checks safe and secure for you. Copies of individual checks can be obtained through online banking or from our offices if needed. Or, if you prefer, all images of cancelled checks will be returned to you each month for a small monthly fee.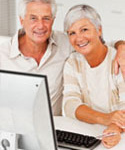 Basic Checking Account
A free, non-interest bearing account with no monthly service charge, no minimum balance requirement, and unlimited check writing, so you have the freedom to use your account as often as you like. Or, you can access your account with your New Carlisle Federal ATM or Visa Check Card®. Your Visa Check Card allows you to pay for your purchases without writing a check. Use it where you find the VISA® logo.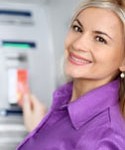 First Rate Checking Account
With First Rate checking you can enjoy the advantage of an interest-bearing account by meeting certain qualifications.   You can access your New Carlisle Federal account by check, ATM, or Visa Check Card®. There's no service charge or minimum balance requirement. See a new account representative for current interest rates and more information.
---
Personal Savings Accounts
Whether your savings goal is short- or long-term, New Carlisle Federal has the safe, secure investment tools and competitive rates to optimize your return, while making your goal easier and more convenient to achieve.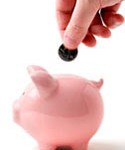 Savings Account
From Statement Savings that provides a monthly record of all your transactions…to a Money Management Account that gives you higher money market interest rates, New Carlisle Federal has a variety of options to fit your particular need and place in life. You can even take advantage of our automatic deposit plan to make your money grow without even thinking about it.
---
Want to switch your account to New Carlisle Federal?
Learn how to switch your accounts with our switch kit and enjoy the benefits of being a New Carlisle Federal customer. It's as easy as 1-2-3!
Important Information for Opening a New Account
Identification Procedures Requirements: To help the government fight the funding of terrorism and money laundering activities, Federal law requires all financial institutions to obtain, verify, and record information that identifies each person who opens an account.
What this means for you: When you open an account, we will ask for your name, address, date of birth, and other information that will allow us to identify you. We may also ask to see your driver's license or other identifying documents.
---
If you need to reorder checks, use our secure Check Reorder Form.